Humanity hasn't been able to measure everything. There is no machine which can calculate the honesty of a person. There is no unit which can measure the happiness levels of people. And most often, these are the most important qualities.
We all like to be with a person who exudes positivity. And we all loathe a person who indulges in malicious back-biting. When we are choosing a friend, we don't take into account the marks a person got in high-school, or what is their income. All that we are concerned for is- is the person trustworthy?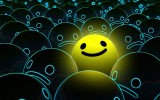 Similarly, when a customer is speaking to a call centers agent, it doesn't matter whether the Agent is a graduate, or has 10 years of industry experience etc. All that matters is – is the Agent polite and helpful while talking to you?
These immeasurable skills are together called as 'soft skills'. The qualities like politeness, tone, tenor, calmness, charm etc. are of utmost importance for a call center agent. But unfortunately, there is no way you can measure any of these.
There are ways to calculate things like – Wrap-up Time, Idle Time, Abandon Rate, Average Speed of Answering etc. But there isn't any way that you can calculate whether you touched the heart of a customer, or how much satisfaction were you able to provide them.
We at Bluechip Callcenter realize the importance of the incalculable. And that is why we give priority to soft-skill trainings for all our call center agents, especially those working as customer service executives.
The whole emphasis of our trainings is to not just become good call center agents, but become good human beings and hone our soft skills along with hard-skills. It is most important for you to master these intangible soft-skills if you want to excel in your work performance.
If you are happier inside, it will show. And even though we can't measure it, we will know!