Trainer explaining the nitty-gritty of a Process, Agents questioning, nodding, jotting down simultaneously, there is never a dull moment in the Training Room at Bluechip Callcenter. The Training Room, fondly nicknamed as the 'Ground Zero', is indeed one of the most vibrant places in office. The room is always abuzz as the Agents receive training for the upcoming new processes.
We have multiple training rooms and each has  up to 50 chairs, a spick and span whiteboard, and a projector. But what everybody loves most about the room are the couches. The Agents recline on these couches, and imbibe the knowledge sitting snugly on the comfortable couches. The atmosphere in a Training room is not as strict, like in a school classroom. Everybody interacts congenially and there are many lighter moments between the sessions.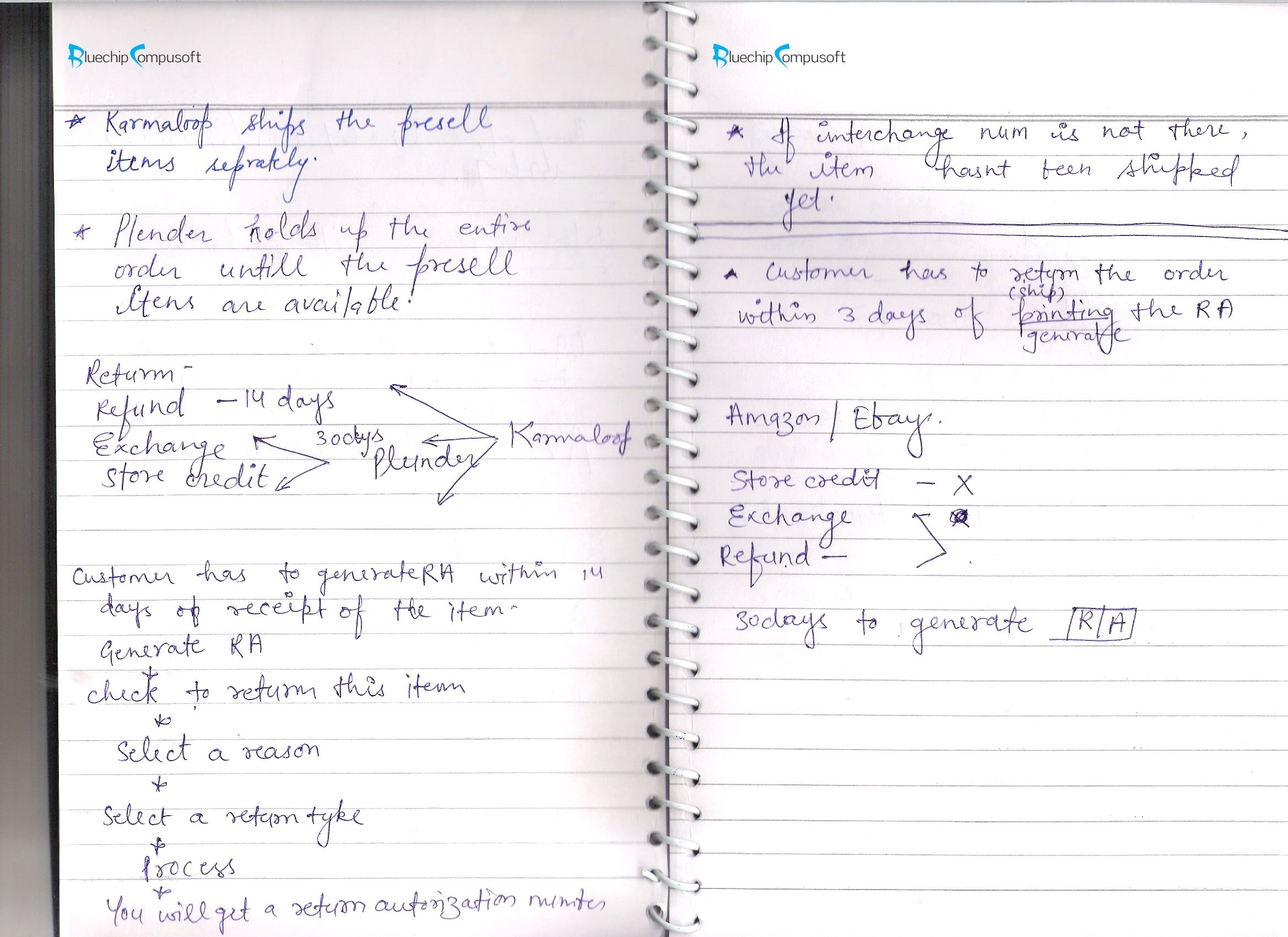 But that doesn't take away the seriousness of the training process. Every Agent first thoroughly understands the Process as elucidated by the Trainer. Then diligently take down notes in their notepad. This is a snapshot of one of the Agents Notepad who is trying to understand the process, in this case, of generating RA (Return Authorization). You can read how the Agent has simplified the process by tabulating the steps as follows:
Generate RA
Then…
Check to return this item
Then…
Select a reason
Then…
Select a return type
Then…
Process
Then…
You will get a return authorization number
Each call center Agent writes in their notepad similarly, simplifying the Process. Notepads often have scribbles and doodles as well. A typical one is that at the end of the Process, many Agents draw a Smiley to signify the happy ending to the process and a satisfied customer.
The training usually is of a couple of hours, and it can be extended to several days also depending upon the complexity of the project. The training is followed by an oral and a written Process Knowledge Test (PKT).
Once the Agent demonstrates complete understanding of the Process through high scores in the PKT, only then they go to the work-floor to take their first call. And before they step into their cubicle, they get a hard-copy of the process flow, like a users' manual. All the instructions are present on their computer system as well. So there is no chance of any error during the customer interaction.
Bluechip Callcenter emphasizes on continuous training, of not just process, but also of soft skills like courtesy, ways of polite and amiable talking etc.
We invest in Training because we believe that our Agents are our true asset! And the enhanced customer service provided to our clients after training is the true ROI! After all, the raison d'etre of our training is better client service and better customer satisfaction. And with each training we move a step closer to perfection!