One of the major problems faced by agents working in a call center outsourcing company is the background noise. Management needs to take care of this problem as it creates a very unproductive working environment for employees. They are constantly distracted by it and are not able to focus on the task at hand. Further, this noise is also heard by the callers at the other end and makes it difficult for both agents and customers to communicate effectively over telephone.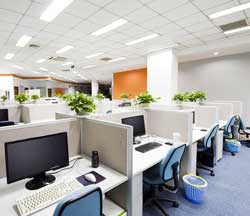 Mentioned below are some of the tested and well proven strategies for reducing the effect of this noise.
Increase The Space Of Agents: This is probably one of the most effective but expensive strategy of reducing the effect of sound on the quality of your call center services. An ideal setup would require you to provide more than 120 square foot of space to each agent. This will provide proper space to each agent and will help them in focusing on their jobs.
Install White Noise Generators: This technique uses sound to kill noise. The white noise generators produce a predefined level of background noise which overshadows the more distractive & obstructive sounds that make it difficult for agents to hear what is being said from the other end.
Cubicles: Another great way of reducing the sound levels is by providing cubicles to call agents. These cubicles can be walled with voice dampening materials to make them more sound proof. However, this might require complete redesigning and furnishing of the center therefore it would be better if cubicles are installed during the development of offshore call center.

Reduce The Number Of Machines That Create Noise: Machines such as fax machine, servers, photocopiers etc should be placed in a separate room. If such devices are placed on the floors where agents work then they are bound to get distracted by them. The coffee and vending machines should also be placed outside as they also produce sound when being used. Further, coffee machines are the most favorite spots for office gossip. This will also distract other agents.

Never Hold Meeting On the Floor: Unless and until you have to inform your whole staff about something, avoid having meeting on the floor. Small gathering and private meetings on the floor are sure shot distraction points. Even if other agents are not able to hear what you are talking about, still they will be distracted by you and won't be able to focus until the meeting is over.
Offshore call centers need to take special care of noise levels in their delivery centers as their productivity and efficiency will directly reflect in the performance of their clients. Poor performance is liable to invite undesired actions from such clients.