Delivering higher levels of customer satisfaction is a necessity for call center services providers and they try to implement every possible strategy to do so. However, agent training is one area where they are not able to maximize the results. The lack of co-ordination, time management and resource management etc are some of the factors which are usually responsible for poor training of agents. Call centers need to understand that the quality of their agents is actually the real quality of work that they would be able to deliver. Unless and until these agents are trained properly according to an effective strategy the performance of a call canter cannot improve.
We recently conducted a survey in agents training in various call centers from all over the world and got some very exciting responses from them. The data collected from these surveys was primarily focused on finding answers to the three main questions.
1. Why are agents not able to receive the proper targeted training?
2. What is the frequency of training in call centers?
3. What are the areas which get positively affected by training agents?
We asked these questions to various call center leaders and collected the replies that we received from them. The findings of our survey are presented below in the form of an infographic with various charts to show the results.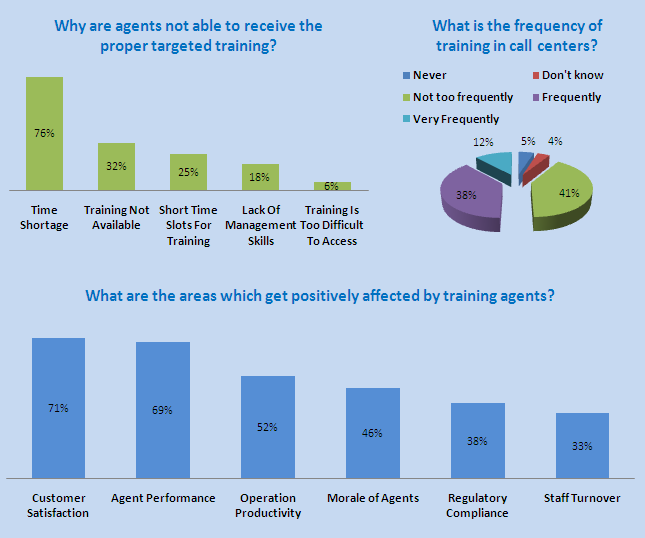 How Bluechip Callcenter Takes Care of Agent Training
We take agent training very seriously at Bluechip Callcenter. The agents at our delivery center go through extensive training programs before they join their teams. We have a highly experienced training team at our center which develops strategies for training agents and makes sure that each agent is given relevant training so as to enhance their skills and make them more productive. This Team ensures that all the hurdles and obstacles that could negatively affect the training are removed from the very beginning.
Proper time slots are allotted for each agent and the required trainer is provided to them for training. Short training sessions are conducted on a weekly basis whereas we conduct a long training session for all the agents once every month. The frequent training of agents has helped us immensely in delivering higher levels of customer satisfaction and achieving better productivity from our operations. The performance of our agents has also enhanced and they have become more compliant to organization regulations.
If you have liked reading this post or want to share some of your own thoughts on the same topic then please feel free to leave us a comment below.