You have to conquer the market. You have to expand your empire. In more ways than one, your business is like a kingdom. But never mistake the business owner as the ruler. The customer was, is and will always be the king!
Why? Simply because it is the customers who play the biggest role in the downfall or the victory!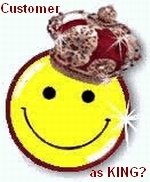 Customers determine whether your business will be able to sustain or will it sink. Your customer base is directly proportional to your market share. The retention of your customers is what survives your business. And referrals from customers make your business rocket up.
So the remote control which decides whether your business will boom or go bust is in the hands of the customers. And definitely the person with the controls is the most powerful one. So no doubts here that the customer is indeed the king!
The next question is how do you please your emperor and ensure that you never earn the king's wrath?
We at Bluechip Callcenter know the answer to this question. Serving as the inbound call centers for customer care department of various enterprises since so many years has taught us the secret to keep the king happy. Yes it is a prized secret, but we wouldn't mind dropping some hints as we want every business kingdom to prosper and every king to feel happy after all. And the secret is – Listen to your king!
If the king wants to say something, then lend your ears. And don't forget what your king told you. Always follow it. If the king wants something, then deliver it. If the king asks something, then answer it. If the king has an issue, resolve it.  You ought to listen to everything your king says, always.
This is what the call center Agents at Bluechip customer care services do on the behalf of your business. We listen to your customers and answer their queries, solve their problems and ensure complete customer satisfaction and happiness.
So the mantra for expanding your business kingdom – All hail the customer!