None of us likes to work on holidays, yet everybody expects their customer care center to be working on a Sunday, even during midnight! As consumers we are assertive in our demand for a 24×7 call center. After all who knows when a product might require trouble-shooting or there may be a breakdown or an emergency.
The businesses can't afford to ignore customer's requirements. So they passed on the demand of 24×7 inbound call center services to the call center vendors. But providing services 24×7 is easier said than done.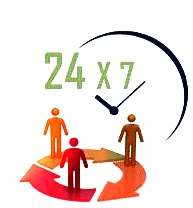 If you rewind in time, then just about twenty years ago it was unthinkable that there would be offices working during midnight with properly scheduled night shifts. People would laugh off the idea of 24×7 as unworkable and impractical. However the transition from eight hour and 5-6 days of work to 24×7 working was so smooth that it silenced all those who were apprehensive.
Now it is very common to see young workforce coming in cabs to these outsource call centers at a time when typically other people are returning home after a day's work. At BlueChip too, the exit of our day-shift of employees coincides with the entry of our night-shift employees.
While we are proud to say that we tender services round the clock and are a 24×7 call center, but we are more proud to say that we don't make our employees work 24×7 or anywhere close to it. At Bluechip, in order to ensure a gratifying work experience for our employees and for the upkeep of their health, we ensure that:
No employee works for more than 9 hours in a day. And these 9 hours include a one hour break for lunch and tea.
All our employees work for 51/2 days only. The sixth day is just a 5 hour shift, and is counted as a half day. One day of the week is a mandatory holiday.
Staying after your working hours is discouraged by our Human Resource department. Time Management and Productivity enhancement workshops are conducted so that people can finish work in given 9 hours and don't have to stretch.
The result of this is that all our employees get time for their family, friends and also adequate rest. None of them is exerted as we perform seamless 24×7 call center outsourcing.
Our employees are an asset for BlueChip. We take care of their health, happiness and job satisfaction. That is why they are able to provide complete customer satisfaction, even during midnight!