Fresh faces bring in a breath of fresh air, and this is why we love hiring at the
Bluechip Callcenter
. One of our ongoing clients requested for expansion of the current team of Agents. It makes for a separate story how our Client started with one shared agent, gradually upped it to a team of 10 dedicated agents. The number grew further to 30 Agents (with 25% Shared Agents) and finally it went up to 80 Agents (25% shared). From half an agent (shared, not even one full dedicated) to 80 is an achievement to say the least. Not many Call Centers can boast of ever having got such a rewarding promotion from their client.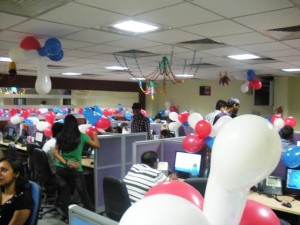 And to seamlessly execute our client's project, we had to hire additional 65 persons. And now with 65 new kinds of smiles, 65 new kinds of thinking brains and 65 new kinds of personalities amidst us in office, we are surely a richer, happier and more exciting workplace.Recruiting these 65 was however a rigorous process. For an entire week, there were hundreds of aspiring candidates in the office daily. With their resume in hand, dressed in formal ironed clothes, bright young men and women thronged our office as the news of vacancies in BlueChip spread.We have a strict 'no fresher' hiring policy. Anyone with three months of relevant experience would do, but not someone fresh out of college. The reason is that we want them to have prior idea of how a workplace is, what are the skills expected and what is the decorum expected from you.
We also want them to appreciate more how BlueChip is different from the rest of
Call Center
employers. And it seems the world already knew about what makes BlueChip as the best employer. Our weekly fun and refreshment activities, our air-conditioned cab pick-up and drop facility and the nutritious and delectable meals served to our employees were amongst the many reasons why people considered BlueChip as a desirable workplace.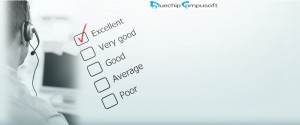 But most importantly,
BlueChip
is the place to be if you want to climb up to the top rung of the ladder. We are one of the only organizations which lay emphasis essentially on Internal Job Promotions.Here an ordinary Call Center Agent can rise up to the level of a Quality Analyst within one year. All our Quality Supervisors have been former Agents as we do not follow the policy of importing our Managers from outside, but we let the leaders rise from within the grassroots. Every Agent who demonstrates leadership and organization skills is rewarded with suitable promotions. We are also renowned as one of the only Call Centers where the present Chief Operating Officer had initially joined the company just as an Agent.This is why whenever we announce a vacancy at BlueChip, hundreds of candidates turn up. To cherry-pick the best employees from this lot is a task taken care of by our HR team.
They first give every candidate a basic test of English to evaluate their grammar and comprehension. It mostly has multiple choice questions wherein synonyms, antonyms are asked, and sentences have to be completed with words of appropriate tense.The test also has passages to test the comprehension skills.Next test is an auditory test, where we play an audio file of 10 minutes long which has sentences and a blank time for a person to jot down what they just heard. This lets us know whether the candidate can also listen and understand along with speaking English. As many times there are people who can manage to speak American accented English, but cannot understand what is being said when an actual American is speaking. After the scores of these two tests are calculated, only those who qualify the cut-off are called the next day. Then there is a one-on-one interview session with one person from HR team and one Quality Manager of the
Call Center Services
.Only those who can make it through all these rounds, finally join the BlueChip family.
We congratulate the lucky and talented 65 young and dynamic people into our family. We welcome them and wish them lots of growth and success!