Every business which needs a service to just basically receive their phone calls gets confused whether should they go for an IVR or for a Phone Answering Service.
Deciding which is better of the two isn't as easy as it seems, because you would get a list of advantages and disadvantages for both the kinds. If you surf the internet, then typically you would find that those articles which favor IVR are posted by IVR service providers, and those articles advocating call answering services are typically written by its service providers. So essentially these articles are written to further vested interests!
The Value of Human Touch in Phone Answering Services
When we talk about phone support, the value of human voice cannot be undermined. When a human hears another human, the impact is very different from a computer-generated voice. The added value of human voice can be useful in:
Retaining customers

When it comes to retaining customers, you need to sound very convincing. A computer-generated voice simply cannot convince a caller, it can only impart basic information and assist in the resolution of simple queries. But when you have a miffed patron who is ready to leave your service or stop buying your product, you need experienced phone answering services agents who have the gift of gab. Veteran agents can help you keep your customers that no automatic IVR system can ever do.

Building long-term bonds

A good customer experience can be a start of a strong relationship with a buyer or subscriber. Rapport building and showing empathy on the call are two of the most fundamental functions of telephone answering services. Both can only be done if you have human answering the phones and not an IVR system.

Handling high-value clients

If you have a bulk buyer or a long-term service user with great value for your business, you would want him to get human support on every call. IVR recordings can sound very impersonal and might not go down well with those clients who hold immense value for your business.
The Value of Automated IVR in Fully-Choked Processes
Although IVR can be very impersonal, its value cannot be denied when you have to attend high volumes of calls. Have a look at certain situations where IVR services for business operations hold great value.
Respite for the agents

Interactive voice response services can provide the much-needed respite to the agents who are struggling to cope up with large call volumes. A well-managed hybrid approach can be used, in which, all callers are routed to an IVR first. If certain queries are found to be too complex for the IVR to resolve, then those calls can be routed to business telephone answering.

Better for imparting official information

If you want to convey messages about service outages and provide general notifications to the callers, then IVR services work the best. A customized IVR can personalize messages and make the experience more friendly for the caller.

Secure way to take account information

A lot of IVR service provider companies in India and the US have started using IVR for receiving critical account information from customers in a secure manner. When an agent requires credit card or debit card info, he can simply transfer to an IVR number. The IVR system gathers the information and inputs it into the database. The account data stays hidden from the view of agents, and can only be viewed by top-tier employees who have the access rights to that information.
We at Bluechip Call Center have therefore brought an objective comparison for you between phone answering call center Service and IVR. And yes, we can claim to be objective and neutral as we at BlueChip offer both the services – IVR and Phone Answering services. So we needn't swing opinion in favor of one, just to attract clients.
So here's the evaluation between the two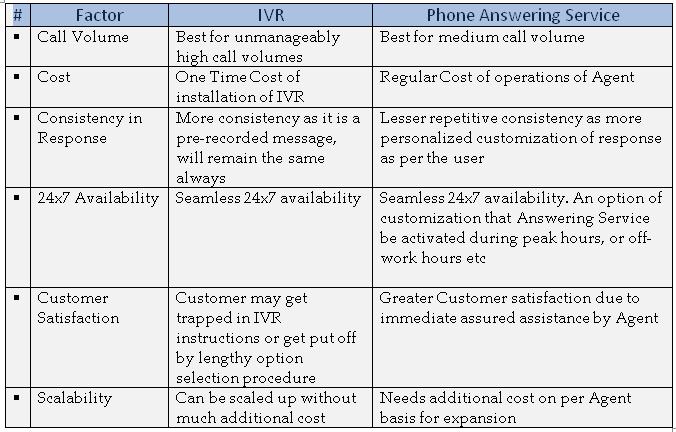 So as you can see in this comparison, there is no hands-down victory for either of the solutions. Both have their advantages and disadvantages. While IVR works best in certain situations, Live Phone Answering works best in another. Whichever you choose, the aim should be accomplished that no call should ever go unanswered.
These days you can easily combine both to get your perfect call center outsourcing solution. Like many enterprises have pre-recorded greetings from IVR, and then the option to speak to a Live Agent also as one of the options in IVR. So why stress over Phone Answering versus IVR, when you can get best of both the worlds!
Bluechip Call Center provides IVR Services in India and in the US. It also provides completely scalable call answering services to its clients, and has a track record of delivering successful projects time after time.